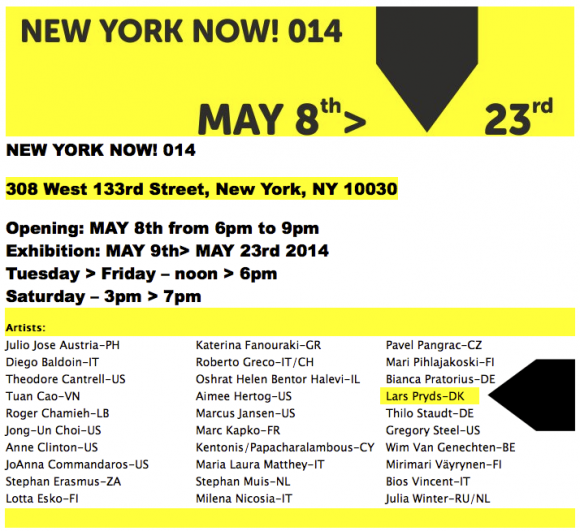 The New York's cutting edge art is shifting from March to May to coincide with Frieze Art fair. Fairs like Pulse and Red Dot, historically Armory Show satellites, have moved their dates to May to coincide with Frieze and new fairs like Seven and Nada.
Frieze New York takes place on May 9–12, 2014 on Randall's Island, Manhattan. Factory-Art new extended exhibition dates are: 8th > 23rd May in the new venue at closest, walking distance, to the main event. The new space is a 1800sqf gallery space in a charming historical building close to the Museum El Barrio, Studio Museum and The Apollo Theater in the Harlem's cutting edge art district.
We believe you will find this spirit reflected in the atmosphere of our model that has always been flexible and adaptable to respond to the needs of artists and the art world at large by creatively reinventing the experience and presentation of art in our exhibitions dedicated to showcasing new art, and to celebrating the rising talents from around the globe.
Factory-Art Gallery has established its name by curating cutting-edge contemporary art from all around the world. Now it is an innovative talent scout platform devoted to the emerging contemporary art scene by setting up exhibitions in London, New York City and Berlin.
The gallery's mission is to open new opportunities for artists by promoting artistic research, increase the communication between the artist's projects, put them in comparison and lay the foundation for an extended dialogue.
Since January 2012 when Factory-Art gallery started the aspiring Project Berlin, followed by London Calling and New York Now, have been exhibited over 150 artists from over 50 countries!
Participating artists now have the new opportunity to create their own professional portfolio on FACTORY –ART gallery website, allowing them to increase visibility and to participate in all Factory-Art gallery selections to exhibit in London, New York and Berlin.
Exhibitors are now being selected amongst the many excellent and interesting artists who are joining our FACTORY-ART gallery community. FACTORY-ART gallery aim is to grow this wonderful online community of talented artists in order to gain increasing recognition, interest and visibility from the art world not only for the selected artists but for all members.
The contemporary art offers us the possibility to see the world with different and unusual eyes and allows us to understand the time that we are live in. Factory-Art organization team is proud to help art lovers and artists to meet and grateful about the positive feedback received.
— Factory-Art LTD – www.factory-art.com
Read more about LARS PRYDS' participation in New York Now! 014