From SNDS Magazine no. 2, 2014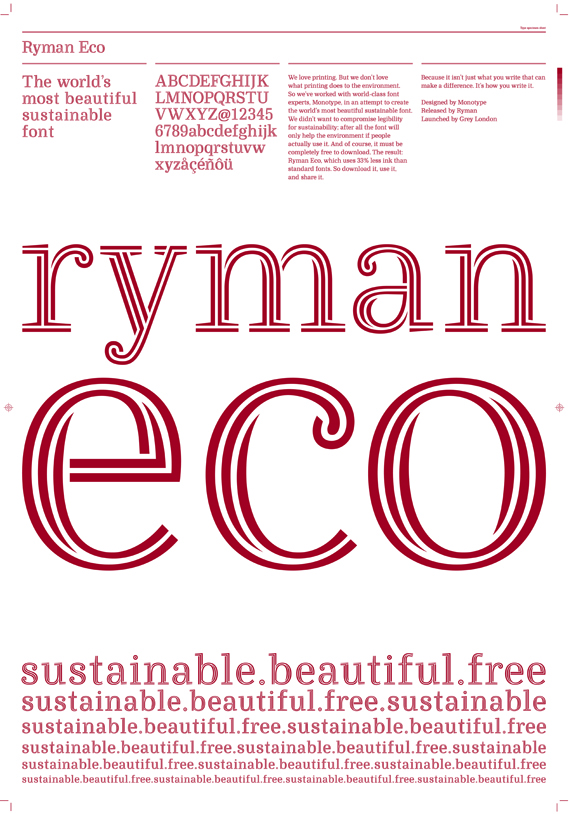 "The last printing revolution changed our world. This one could help save it."
Ambitions are high for British stationary brand Ryman and ad agency Grey London, who recently released a new font, Ryman Eco.
Ryman claims that its new font, which is available for free download, uses a third less ink and toner than standard fonts such as Arial, Times New Roman, and Verdana. The company believes that if everyone used the new font, it would save over 490 million ink cartridges and could help lower CO2 emissions by over 6.5 million tons.
The font was designed using thin lines rather than solid shapes, which reduces the amount of printer toner used to form a letter on the printed document. Ryman Eco was designed to be suitable for use in any context, at any size, and this is perhaps the biggest challenge to its success. The idea is that in small sizes, you may not even notice the white lines in the characters, but in larger sizes its decorative appearance may mean some organisations may not want to use it in their publications. Furthermore, companies or organisations with a distinct design policy are not likely to use this font anywhere at all as part of their typographic setup.
Ryman Eco is not the first example of a sustainable font. In 2008, Dutch company SPRANQ released its Eco Font type family, which uses holes in letters to reduce ink waste. But "Ryman Eco is both more efficient […] and more aesthetically pleasing than its rivals," says the font's designer Dan Rhatigan and Grey ECD Nils Leonard, in an interview with Creative Review.
However, being aesthetically pleasing – or, as Ryman boasts, "The world's most beautiful sustainable font" – does not make it suitable for everything. As some commentators note, perhaps Ryman Eco is just an advertising gimmick in order to sell more printer toner – a main product at Ryman's.
Download Ryman Eco for free at rymaneco.co.uk

Taking the idea of saving toner one step further, the company behind Ecofont Vera Sans has developed software that will put holes in commonly used typefaces such as Verdana and Arial on your computer.
Download Ecofont Vera Sans for free at ecofont.com