Editorial from SNDS Magazine no. 4, 2014
We believe there is nothing social about online social networks, so get out from behind your screen and get to a live event, with real people, real communication, real beer, and real creative fun."
– www.pechakucha.org
Visuals can be many things. In the previous issue of SNDS Magazine, we looked at illustration. In this issue we show you a glimpse of a live event – the SNDS Fu2i0n14 conference held in Copenhagen in October – and tell it almost only in pictures. Our photos may not say more than a thousand words, but hopefully they will convey the atmosphere and quality of the conference and encourage you to register next year.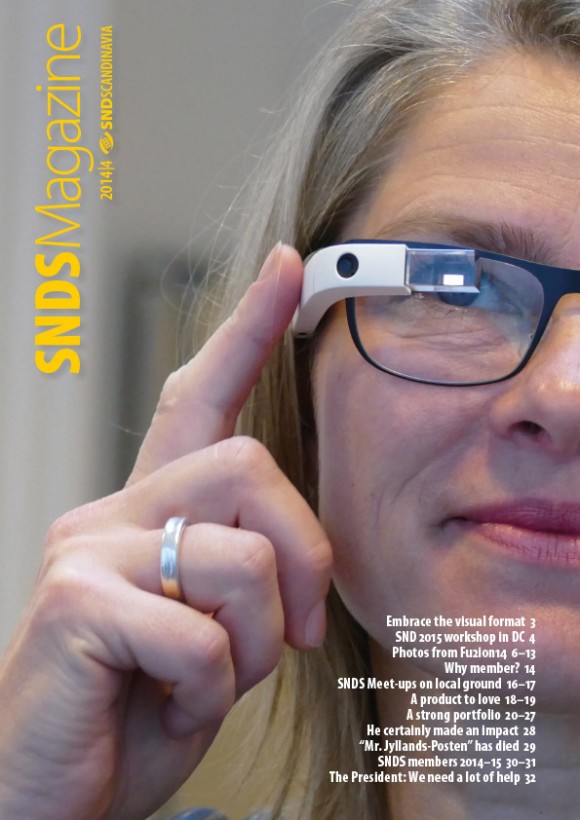 A visual innovation at Fu2i0n14 was the introduction of the PechaKucha – a simple presentation format where you show 20 images, each for 20 seconds. Images advance automatically and you talk along to the images.*
Nine speakers tried their best at this very strict presentation format – Stig Ørskov, CEO of JP/Politikens Hus, Denmark, held his presentation precisely within the required timeframe of 6 minutes, 40 seconds (20 slides × 20 seconds), and Liv-Jorunn Håker from the Norwegian newspaper Sunn­mørsposten also managed to deliver a well-structured PechaKucha entitled "Get over it!" about struggling with web code. Accepting the rules of the format clearly showed what magic a great Pecha­Kucha can produce.
Now, this may be a rather formalistic observation, but in principle, no design format should be neglected – be it in a presentation, in a printed magazine or in apps as well as other digital products. Users and readers of our publications are very aware – consciously or unconsciously – that any given format has its rules and conventions. Try uploading a 20 MB jpg to your news website and watch the bounce rate of your visitors grow sky-high, or set body copy in your newspaper at an illegible five point size – it just doesn't work.
Of course you can pretend that there are no rules – but then the rule is (!) that you have to be extremely good at inventing new stuff. And that's a lot harder than communicating within the grid at hand.
In the magazine
Will PechaKucha be part of the new initiative SNDS Meet-up, launched in this issue (page 16)? It's actually up to you: SNDS Meet-ups are local self-organized events, where news designers in the Scandinavian countries can socialize, exchange ideas, learn and engage in their local design-community.
Kim Bjørn came up with this great idea, and we hope you will support the project and start organizing. More info to follow on snds.org.
One of the winners in this year's Best of Scandinavia News Design competition was the Finnish illustrator and graphic designer Anniina Louhivuori. The only winner in the new Portfolio category in the print part of the contest, we were so impressed that we wanted to see more. We're proud to show all six entries from her award winning port­folio plus another seven examples of her great visualizing skills published in Sunnuntaisuomalainen.
In next year's competition, there will be a few changes to the categories – which ones will be announced online and in a booklet in the beginning of January. The deadline for submitting your work is set to January 30, 2015.
Come together, right now
Our mother organization SND is running a membership drive campaign right now – asking members what their membership has meant to their life and career. We quote a few of the answers on page 14 – and the reasons for joining or renewing with SND are just as valid as reasons for joining or renewing your SNDS membership. If you want to have the best of both worlds (and who doesn't?) you even get a discount if you sign up for a double membership at snds.org/member – see you in the club!
New board member
Speaking of members – we have a new member on the SNDS board, elected at the general assembly in Copenhagen in October. Elisabeth Svendby is Head of the design and user experience team at Amedia Utvikling, Norway, and former chief designer of Dagbladet.no. She has been a member of the digital jury of SNDS Best of Scandinavian News Design competition for several years. She is trained in graphic and web design and programming, from Østfold University College and Universität Bremen, Germany. Elisabeth Svendby replaces Lill Mostad. Welcome on board!
Finally, have a great Christmas
and a Happy New Year.
Lisbeth Tolstrup
& Lars Pryds
Editors, SNDS Magazine
* PechaKucha was devised by architects Astrid Klein and Mark Dytham in Tokyo in February 2003 as an event for young designers to meet, network and show their work in public. Sources: www.pechakucha.org, klein-dytham.com/pechakucha