Editorial, SNDS Magazine no. 4, December 2015.
"There are flowers everywhere, for those who bother to look."
– Henri Matisse (1869–1954)
In this issue of SNDS Magazine we look back at the two first days of October, when 113 people gathered in Copenhagen for the SNDS15 news design conference. The number of participants was higher than previous years, so maybe we can look forward to a growing interest in getting together with your colleagues and get inspiration for your daily work at home (see p. 8–13).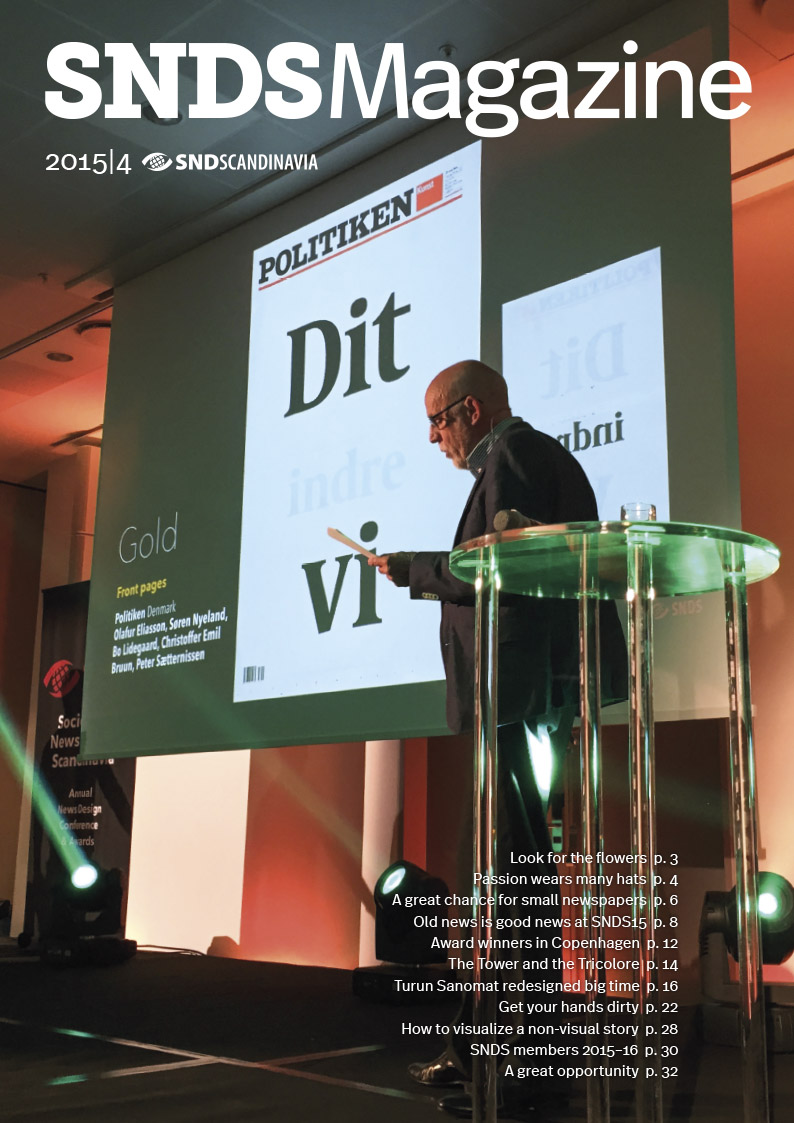 Until now, mostly members from the four "big" Scandinavian countries – Denmark, Finland, Norway and Sweden – have participated in the annual conferences. In the future, we hope to see colleagues also from the countries in the North Atlantic: Iceland, Greenland and Faroe Islands – and not least from our new Baltic members Estonia, Latvia and Lithuania. Because – Scandinavia just grew bigger, as announced on the snds.org website. SNDS President Flemming Hvidtfeldt tells the story of expanding the organisation (see back page).
The SNDS board is looking for a new venue for next year's conference, and based on the many great ideas from a questionnaire to all participants at SNDS15, we are looking forward to see a completely new concept for SNDS16. Stay tuned – check for updates on the snds.org website and if you haven't done so already: sign up for our newsletter, also from the website.
Changes are also being made to the concept – including the pricing structure – of the "Best of Scandinavian News Design" competition. Flemming Hvidtfeldt explains the idea and the new initiatives (see p. 6–7).
Remix and collaborate
One ubiquitous discussion in the media world is the never-ending battle between print and digital. Bjarke Myrthue, CEO and founder of Blind Spot, at SNDS15 boldly claimed that: "Life is definitely over for printed newspapers," but then added, reassuringly: "it's not over for media professionals".
Myrthue advocates for creating collective stories and for us to enter into a completely new mindset to survive in the new reality of remixing and collaborating.
He also said, "We've got to get used to the fact that content is free. The real value lies in putting the content together in a special way – and getting paid for that".
On the other hand, also at SNDS15, Matthew Ball from the organisation Think Scotland showed us that "Print is not dead", as his presentation was simply called.
Rasmus Kyllönen from Finnish Hufvudstadsbladet argued that: "Print will survive because people want OBJECTS" – and then he launched a Facebook page dedicated to the great art of printed news design.*
The power of print
But is legacy media – print – simply not able to embrace the new technology? Frédéric Filloux, founder and editor of MondayNote, sees newspapers as shortsighted, structurally limited, and having a "terrible attitude towards risk and failure". They are not agile enough to adjust to the new culture and therefore, they will not survive the battle with the "digital natives", Filloux says.**
In this issue, we'll try to prove him wrong. We believe that legacy media and digital media both have their different places in this world. It's not a question of replacing the old with the new, it's a matter of taking the step to stop competing and start collaborating.
One example of a flourishing newspaper is Turun Sanomat, which in October launched a redesign – the first for 15 years. Design Editor at Turun Sanomat, SNDS Vice President Anne Laitinen, tells the story of the transformation of the proud Finnish paper (see p. 16-19).
In 2012, Europe's biggest weekly tabloid, Bild am Sonntag, based in Berlin, Germany, brought in Brasilian born Saulo Santana as head of the design department and challenged him to improve the visual way of telling stories in the paper. Jeminah Birkner, freelance photo­grapher and visual storyteller, in a very personal interview lets Saulo Santana tell us about the process of implementing a new way of working at the traditional tabloid – with amazing visual results (see p. 22–27).
Visualization as a storytelling tool
Senior Designer at American ESPN the magazine, Paul Wallen, gives advice on "How to visualize a non-visual story" – be it digital or print. We challenged Danish illustrator Maj Ribergård to visualize Paul's article. See the result – and take the advice – on p. 28.
A visual explosion followed the deadly ones in Paris, France, when six planned terrorist attacks stunned the French capital on Friday 13 November. We found some brilliant front pages from newspapers published the days after the attacks – examples of the power of print, although on a tragic background (see p. 14–15).
Finally, we bring you the updated list of SNDS members – and we hope that this list will grow in the future and become even more multinational than it is now. We'd love to see more flags here next year.
Lars Pryds
Editor, SNDS Magazine
Sources:
* https://www.facebook.com/groups/springtimeforprint/
** http://www.mondaynote.com/2014/11/24/hard-comparison-legacy-media-vs-digital-native/