From SNDS Magazine no. 4, 2015.
The SND Design Journal is back – stronger than ever
By the time you read this, SND will have published the 114th issue of the Design Journal and mailed it to its members. Except for the special How 2 issue in the summer of 2013, it's been three years since the latest issue of the journal, so it has been a long time.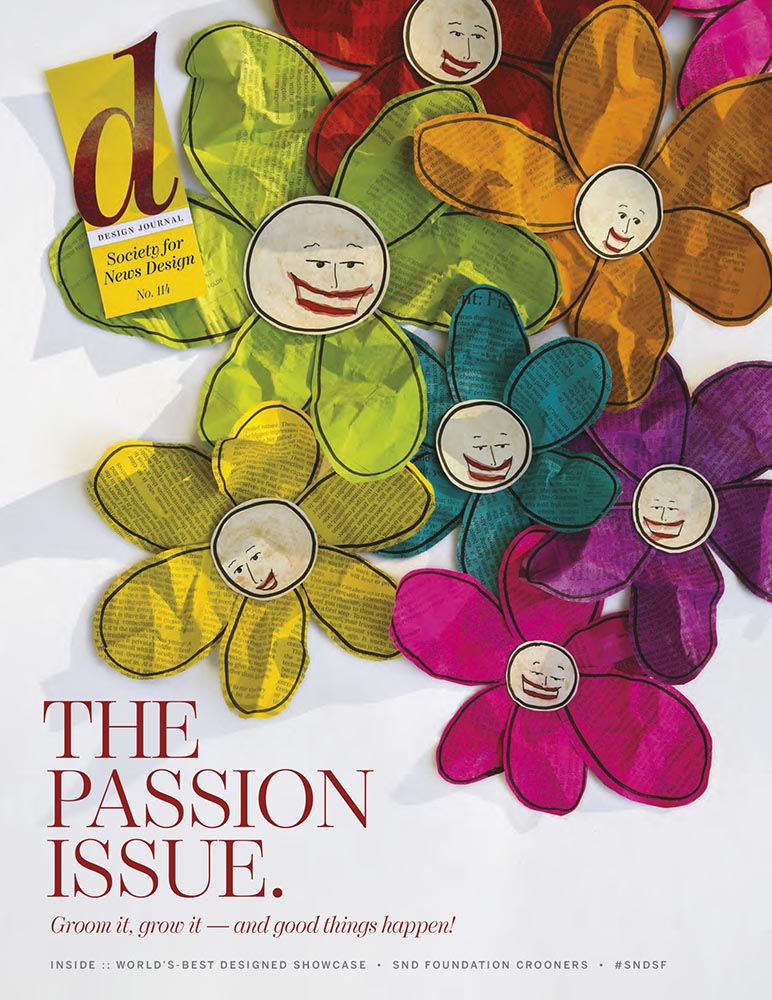 But it was worth the wait. Subtitled The Passion Issue, all contributors focus on this driving force:
"We love it when we have it. And when it's missing, we long for it, again. […] We look at the many facets of this powerful emotion and how it has a hold on us all," as the editor, SND Publications Director Julie M. Elman says in the introduction.
The content was put together by Elman and SND Vice President Sara Quinn, and the printing of it made possible by a generous sponsorship from The Khaleej Times in Dubai.
Elman and Quinn asked a long line of people from the news design community to write about their passion – and reading their stories is an abundance of inspiration:
Andrea Levy shows some of her great art for The Plain Dealer's Op-Ed pages; Paul Wallen gives advice on how to control the dark sides of passion; Michael Stoll tells us how he came to love pop-up books and infographics; Amy Webb looks into the near-future for innovations in news; and  Mario García digs out an old passion that has been stored away since his childhood: Performing on stage as 'Mario the actor'.
The headline for this article was taken from his essay: If any, Mario García has been wearing all kinds of hats in his long career, always generously letting us know what goes on under the brim.
Finally,  I'm really excited to have been invited to join this great party myself, and even given the honour of opening the 'Passion' section with a collage and a short text about putting your heart into what you do.
The first part of the journal is dedicated to presenting the latest SND World's Best-Designed Newspaper winners – and the runners-up. One spread features the World's Best-Designed Digital winner: Facebook – a controversial choice we also wrote about in SNDS Magazine no. 2/2015.
If you are a member of SND, you will already have received this great 64 page booklet in your mailbox – if not, remember that you can sign up for a joint SND/SNDS membership at a discount price. See the SNDS website for more info:
 www.snds.org/member
.