(Scroll down for English text)
Collagen "Between 17 and 20" (28 x 23 cm) fra 2012 er faktisk en videreførsel af en billedserie, jeg påbegyndte i 2003. Dengang havde vi et stort, råt atelier i Brabrand, og arrangerede dér en udstilling med titlen "Girls! Girls! Girls!" – med 50 værker, der alle havde en eller flere kvinder som motiv.
Tre kvindetemaer lanceredes her – dels en serie collager med den ikoniske skuespiller Hedy Lamarr, dels begrebet "Schablone Sisters" (motiver skabt ud fra pap-skabeloner), samt endelig den kategori, dette billede hører til: "The Sad-Eyed Ladies of Advertising". Betegnelsen er naturligvis en variation over en kendt Bob Dylan-sang, mens de konkrete collage-elementer stammer fra reklametryksager, vore unge døtre omdelte i lokalområdet men forinden sorterede på værkstedet. Der blev altid enkelte tilovers – og de endte så indimellem som del af en collage.
Musik er også inspiration til titlen – på Elton John's fabelagtige dobbeltalbum fra 1976, "Blue Moves", findes en let melankolsk skæring med titlen "Between Seventeen and Twenty". Sangen indeholder følgende linjer, som jeg for mange år siden har brugt i en anden collage:
"I'm blue tonight, I'm red when I'm mad.
I'm green when I'm jealous, Yellow when I'm sad.
I guess I cannot have everything.
So much has flown between the years
When I was twenty, oh, and you were seventeen"
Det er da både visuelt og smukt, ikke sandt?  –pryds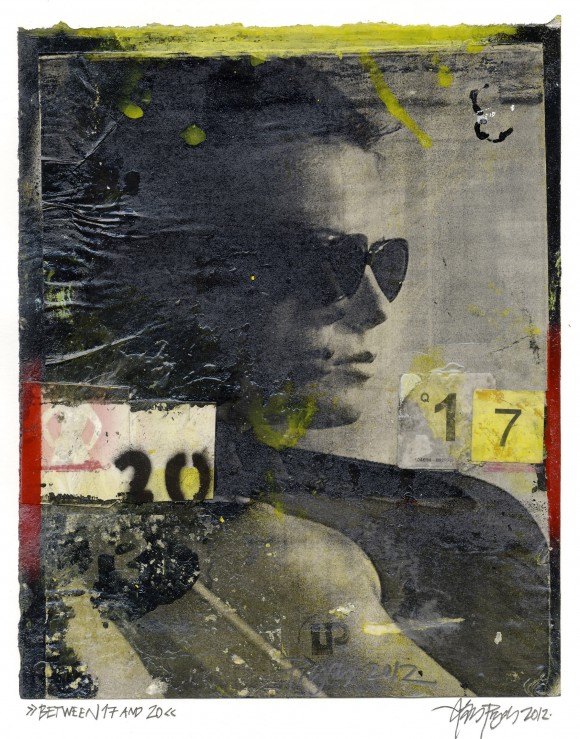 ….
The collage "Between 17 and 20" (28 x 23 cm) from 2012 is the continuation of a series of pictures I started back in 2003. At the time we had a large warehouse studio in Brabrand and arranged an exhibition there – entitled "Girls! Girls! Girls!" – showing 50 works of art all with one or more women as the motif.
Three themes about women were launced here – first a series of collages inspired by the iconic actress Hedy Lamarr, then the concept of the "Schablone Sisters" (motifs created from cardboard stencils), and finally the last category to which this work belongs: "The Sad-Eyed Ladies of Advertising".The title is, of course, a variation of a well-known Bob Dylan song, while the actual collage elements came from advertising brochures, that our young doughters dealt in the area. A few were always left over – and ended up as part of a collage.
Music inspired me to the title of this specific work – on the fabulous Elton John album "Blue Moves" (1976) you can find a rather melancholy song called "Between Seventeen and Twenty".The chorus lines, which I have used in another collage years ago, go like this:
"I'm blue tonight, I'm red when I'm mad.
I'm green when I'm jealous, Yellow when I'm sad.
I guess I cannot have everything.
So much has flown between the years
When I was twenty, oh, and you were seventeen"
Very visual words, and very beautiful, don't you think?  –pryds