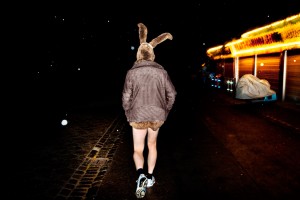 Dyrehavsbakken: En kanin med bare ben leder efter et værtshus, hvor festen kan fortsætte. Foto: Kristian Djurhuus. 1. pris, Årets pressefoto 2010, åben klasse.
Årets komet i dansk pressefotografi hedder Mads Nissen, er 30 år og ansat på Berlingske Tidende. Hans udtryksfulde vinderbilleder er fotograferet både herhjemme og så langt væk som Amazonas. 
Af Lars Pryds
Titlen som "Årets pressefotograf", den fornemste hæder i branchen man kan få i Danmark, og tre andre priser blev tildelt Mads Nissen blot få uger efter han havde vundet andenprisen i konkurrencen "Picture of the Year International", så Mads kan nu kalde sig både Danmarks bedste og verdens næstbedste fotograf – i hvert fald et års tid endnu. Samtlige vindere i Årets Pressefoto blev afsløret den 5. marts på det Kongelige Bibliotek i København, hvor vinderne og et udvalg af de indsendte fotos kan ses indtil den 17. april. Udstillingen er en fascinerende tur gennem fotografernes registrering af storslåede glimt fra den store verden – fra Mads Nissens reportage fra det hårde liv i Brasiliens største illegale guldmine til Carsten Snejbjergs billeder af unge indiske mænds forberedelse til kamp i den gamle sportsgren 'Kushti'. Miriam Dalsgaards portrætter af opstillede par fra World Outgames' konkurrence i Latindans for mænd er forunderlige og smukke. Obama er selvfølgelig repræsenteret, men også hjemlige, hverdagsagtige situationer er med – for eksempel Kristian Djurhuus' fint oplevede reportage fra en dag på Dyrehavsbakken, som vandt førsteprisen i kategorien Åben klasse.
Årets Pressefoto
Det Kongelige Bibliotek, Diamanten
Søren Kierkegaards Plads 1, København
www.kb.dk
Til 17. april
Skrevet til Kunstavisen nr. 03/2010, men blev ikke bragt.