En opslagstavle er som dét øjeblik, man tror man skal dø og hele ens liv passerer revy: en samling glimt fra fortiden, minder om begivenheder, underlige dimser og tildragelser, der var vigtige en gang og måske bliver det igen – eller måske blot lagres som inspiration. I hvert fald: hver enkelt "ting" har sin egen historie.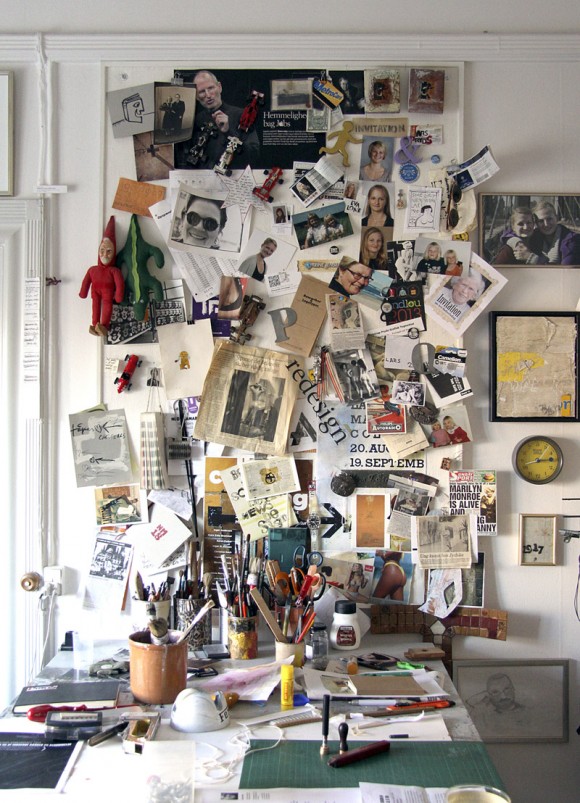 Opslagstavlen over mit arbejdsbord indeholder mange af disse glimt. Der er Formel 1-biler fra min barndom, der er min yndlingsnisse, et magasinopslag om Steve Jobs som jeg designede en smart rubrik til; der er billeder af mine børn og min kone og mine forældres bryllup i 1948; et hjemmelavet ludo-spil; en Dolly Parton-koncertbillet; bogstaver; postkort med kunst; Marilyn Monroe og smukke kvinder med bare baller – for hvor finder man en ordentlig croquis-model nu om dage?
Midt i det hele, under ordet "redesign" i Jyllands-Postens nye brødskrift (nå ja, ny var den, tilbage i 2001), hænger et udklip fra Politiken, gulnet i en grad, der nærmer sig brunt. Det er en lille artikel fra 2008 om Simone de Beauvoir, der ville være fyldt 100 det år. Artiklen illustreres af et af de berømte billeder, fotografen Art Shay tog i Chicago få øjeblikke efter Simone var steget ud af badet og var i gang med at sætte håret, kun iklædt et par højhælede sko. "Naughty man", skal hun have sagt, da hun hørte klik-lyden fra Shays Leica-kamera, og så ellers ufortrødent have fortsat sin morgentoilette.
Fotografiet er så utroligt kærligt, nænsomt, ærligt og afslappet, at det (efter nogle måneder på opslagstavlen) blev forlæg for et af mine malerier, "Simone Does Her Hair" (140 x 200 cm), som jeg malede færdigt i 2009, og som siden har været udstillet både i det københavnske Galleri Lisse Bruun, i Filosoffen i Odense og det underskønne Kunstcentret Silkeborg Bad – det sidste et ganske passende sted, det oprindelige motiv taget i betragtning.
Men selv om maleriet blev det endegyldige resultat af et øjebliks inspiration (for både Art Shay og mig) har avisudklippet overlevet – og flytter med, når opslagstavlen flyttes rundt i værkstedet. Indtil det en dag er gulnet så meget, at motivet bliver helt utydeligt, eller papiret smuldrer og drysser ned bag arbejdsbordet – og forsvinder for evigt.
Se maleriet blive til på www.pryds.com/s