(Scroll down for English text)
"Hvad foregår der derinde bag det røde? Har farven med blod at gøre? Hvad er det for en person, der gemmer sig inde bagved slørene? Og hvad betyder de mange tegn, der er monteret på billed­fladen […] ?
Med hovedet svirrende af Philip Marlowe-replikker står jeg her over for et gerningssted. Nogen har været her før. Mange gange endda. Den, der har taget livet af den stakkels unge kvinde med Medusahåret, så nu kun hendes genfærd kan svæve bag gardinerne, han har flere lig på samvittigheden. De findes nok bare endnu længere inde bag de skjulende gevandter.
Han har garanteret slået et væskende kryds for hvert af ofrene. Han er ligefrem 12 gange i træk gået igennem den selvsamme dør, hver gang med en død til følge. Efterfølgende har han så, fræk som han er, klasket endnu et tegn op på ydervæggen, enten et forbogstav eller bare ligets nummer i den blodige rækkefølge. Denne morder finder vi helt sikkert – hvis vi leder længe nok."
Kunsthistoriker, mag.art. Lise Seisbøll om maleriet "12 Plustegn" i bogen "Pages of a Non-Existent Diary"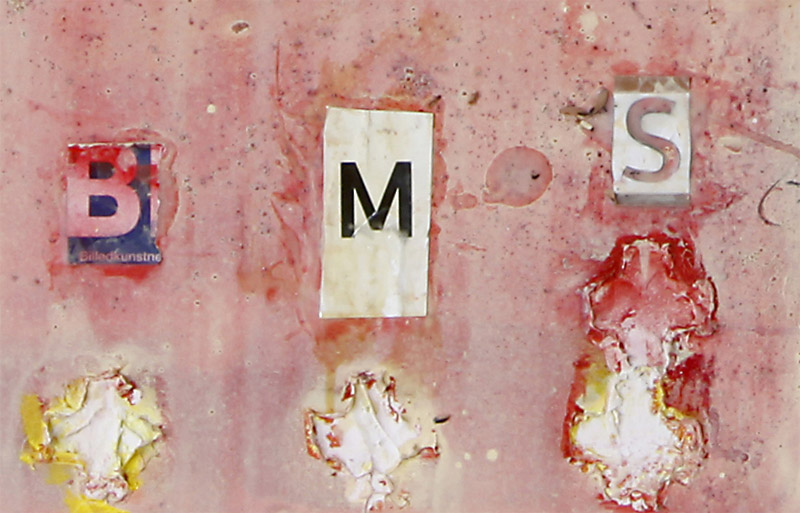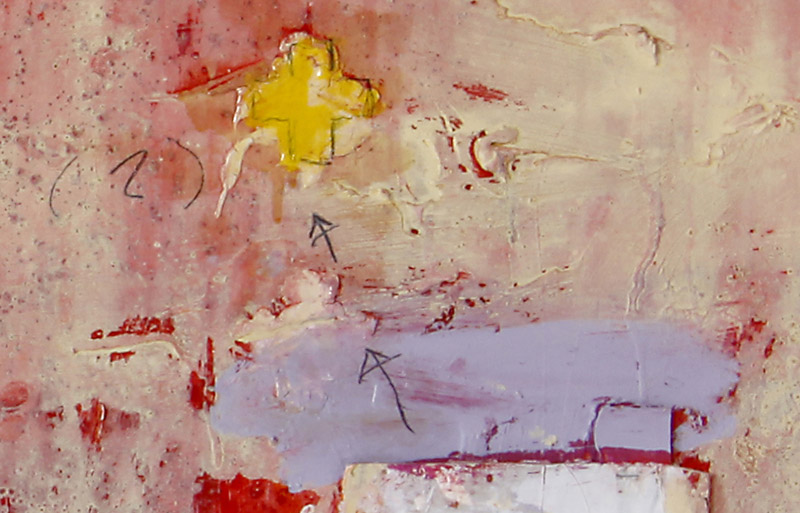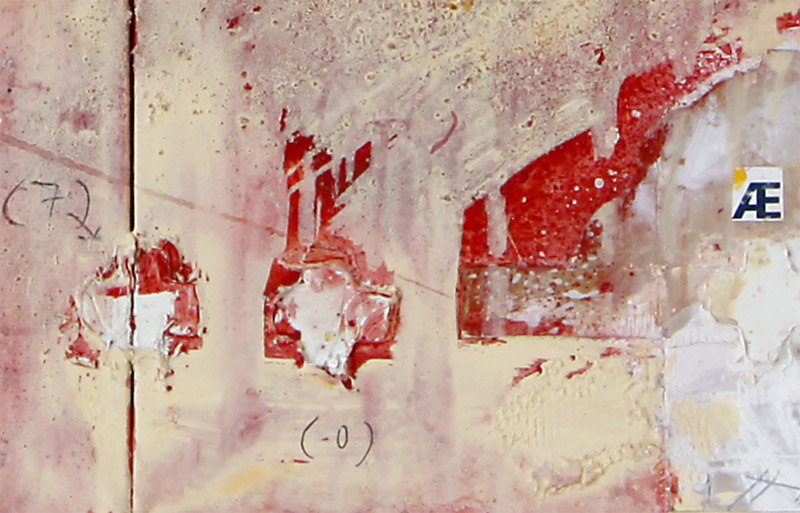 Lars Pryds: "12 Plustegn", 2007 (detaljebilleder).
Akryl, tegning og collage på lærred, 100 x 160 cm.
….
"What is going on behind all that red? Has the colour got something to do with blood? And who or what is that person – if it is actually a person – who is hiding behind the veil? And what do all those symbols affixed to the surface of the picture mean […] ?
With my head filled with Philip Marlowe quotes, I stand in front of a crime scene. Someone has been here already – perhaps many times. The one that took the life of the poor young woman with the Medusa hair, so that now only her assets can float behind the curtains, he has more bodies on his conscience. They are sure to be found further behind the curtains: I bet he has made a dripping cross for each of the victims.
He has gone through that very door twelve times in a row, and each time a death has followed. After which, brazen as he is, he has slapped yet another sign up on the outside wall – either a letter or simply the body's number in the bloody order. We will find this murderer for sure – if we look for him long enough."
Lise Seisbøll, MA in Art History, about the painting "12 Plus Signs" in the book, "Pages of a Non-Existent Diary" Translated by Anne-Mette Fogh.