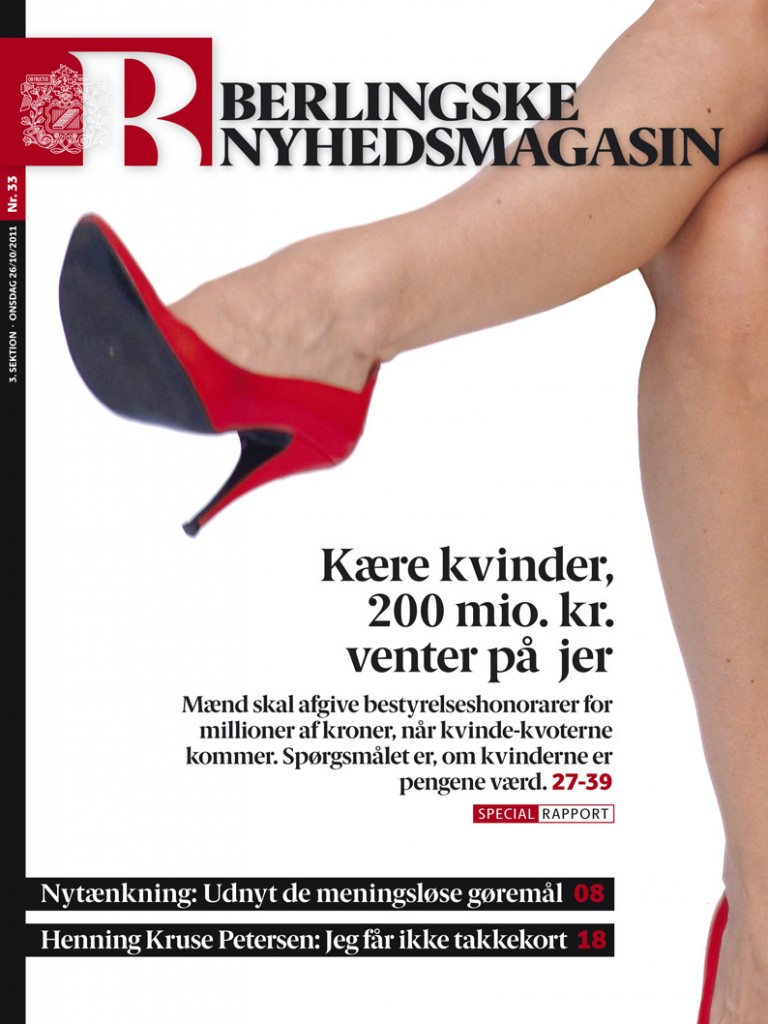 Over just a few days, this cover of Berlingske Nyhedsmagasin (No. 33, 26 October) has been called "sexist", "a bit foolish", "eye-catching", "fabulous", "a mistake", "patronising", "a nice change", "a relief" as well as "the world's oldest and possibly most efficient trick". One fan on Facebook wrote, "That's just how to do it!". At CBS – Copenhagen Business School – 80% of participants in a mini survey said that it was actually "quite okay".
The story – for those of you who do not get the mag in the mail with Berlingske every Wednesday or buy it at the newsstand – is about the quota for women on the boards of large Danish companies, that the new Danish government plans to introduce in the near future. The consequence will be that male board members are replaced by women – and the women are certainly willing to take the posts. How do we convey that message in the cover? Well, we chose – after some trial and error – to show a pair of lovely legs in hot red stilettos. What could be more feminine?
A few people have taken offence over this way of speaking in clichées – after all, it's the good old Auntie Berlinger we're published with. But when the content of the article is provocative – the women are hardly worth the fees they are about to receive, the point is – I guess it's okay to shout a little on the visual side as well. In my opinion, even though the cliché is thick as can be, our intelligent readers will know that it is just that – a cliché.
But; the final design was preceded by a large amount of tests trying to show the classic image of a female board member – dressed in the typical business suit and long black boots. Here, we bring you a rare behind-the-scenes glimpse of the graphic workshop of Berlingske Nyhedsmagasin and (below) show you four covers that were turned down in the process – one stated that these images of women were "simply too boring – female board members are not like that at all". They certainly are more colourful that just a suit and no tie. We figured there was a point there.
What do YOU think?Is the 'stiletto cover' sexist or fabulous? Eye-catching or boring? My hope is that it will be a cover to remember – so that when asked around New Year's eve which cover was the best this year, you will think of the red stiletto. Cliché or not …