Making people pay for news on the web and other digital platforms has been doomed impossible by media researchers, but that does not keep anyone from trying.

By Lars Pryds / From SNDS Magazine 4, 2012.
It certainly looks like a new trend for Scandinavian media houses: setting up paywalls on their websites and preparing special paid-for digital products.
As Anders Tapola writes on the back page of this magazine, Fædre­landsvennen in Norway has started charging for Everything, Everywhere, Always. An easy-to-understand strategy – click any link on the front page of fvn.no and you will be prompted to pay for access to the journalistic content.
In Denmark Berlingske did the same in November for a handful of its regional newspapers, so readers who want to read local news from e.g. Aarhus Stiftstidende will have to pay for it, whether it's in print or online.
Building a wall – but a soft one
However, most media houses do not have the courage to go all the way and charge for everything, but allow a certain amount of content for free before you have to punch in those numbers from your credit card. Also in November, in Finland, the mighty Helsingin Sanomat built a 'soft' paywall for hs.fi – allowing five free articles per week.
In Sweden, several papers have tried the same, says SNDS President Anders Tapola. Dagens Nyheter has launched a new website, dagensnyheter.se, where all material from the print edition is published at one o'clock every night – to complement the fast news updates on the regular dn.se.
"However, most of the initiatives look rather half-heartedly," says Tapola, "and in some cases it's difficult to understand what you're paying for."
Just like the New York Times
The three major national papers in Denmark all seem to be going the same way as Helsingin Sanomat – Politiken has chosen "the Metered Model which New York Times were the first to launch 18 months ago and which 150 US newspapers have rolled out since. We will launch our model in the new year," says Anders Emil Møller, head of digital development at Politiken.
Berlingske will do the same – also "in the new year" (probably in February) – allowing 10 clicks for free each month before charging for articles. A complete reorganization of the way news stories will be planned are in the works – in order to publish all content to all platforms.
Jyllands-Posten has introduced a slightly different model for charging for online content in the form of a 'Premium' product, which will give subscribers access to content of a 'special quality'.
The times are certainly changing (again) for the news media – and this is how it should be. Dr. Mario R. García – a die-hard optimist on behalf of the news business – phrased it very clearly in Cleveland, at the SND workshop:
"There is a place even for print – but those who survive are the ones who rethink themselves".
An impossible task?
But, will the news companies survive by introducing paid-for web content? Not everyone is as optimistic as García. Erik Rasmussen, CEO and publisher, Monday Morning Management (DK), thinks that this project is impossible – for two reasons:
"Firstly, no matter what kind of paywalls the dailies set up, there will be an abundance of free news on the web. Second­ly, the newspapers have neglected to develop the originality and use value that the readers are willing to pay for." (Berlingske, 22 Oct. 2012).
So, maybe all the hard work should not start with preparations for publishing your contenton a multitude of platforms in hundreds of different shapes and sizes, or trying to keep up with your competitors by doing exactly the same as they do. Instead, it might be a good idea to rethink the content itself.
As García also said in Cleveland – the story comes first, not the platform.
* I'm building a wall
a fine wall
not so much to keep you out
more to keep me in
– Pet Shop Boys (2009)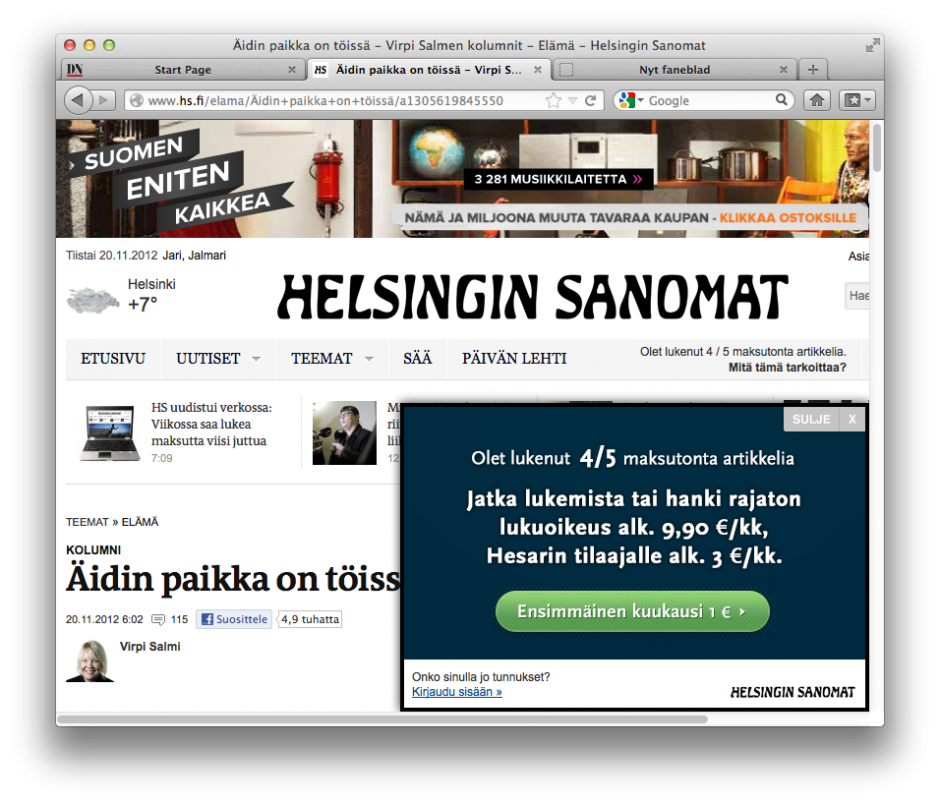 STOP! Even though you don't understand a word of Finnish, the message of this warning sign is easily recognizable: Pay, if you want to continue. If you're already a subscriber to Helsingin Sanomat in print, you're only a little bit more lucky – you still have to pay, but the price will be as low as 3 euros per month, less than a third of the price for new readers. (Screenshot from hs.fi)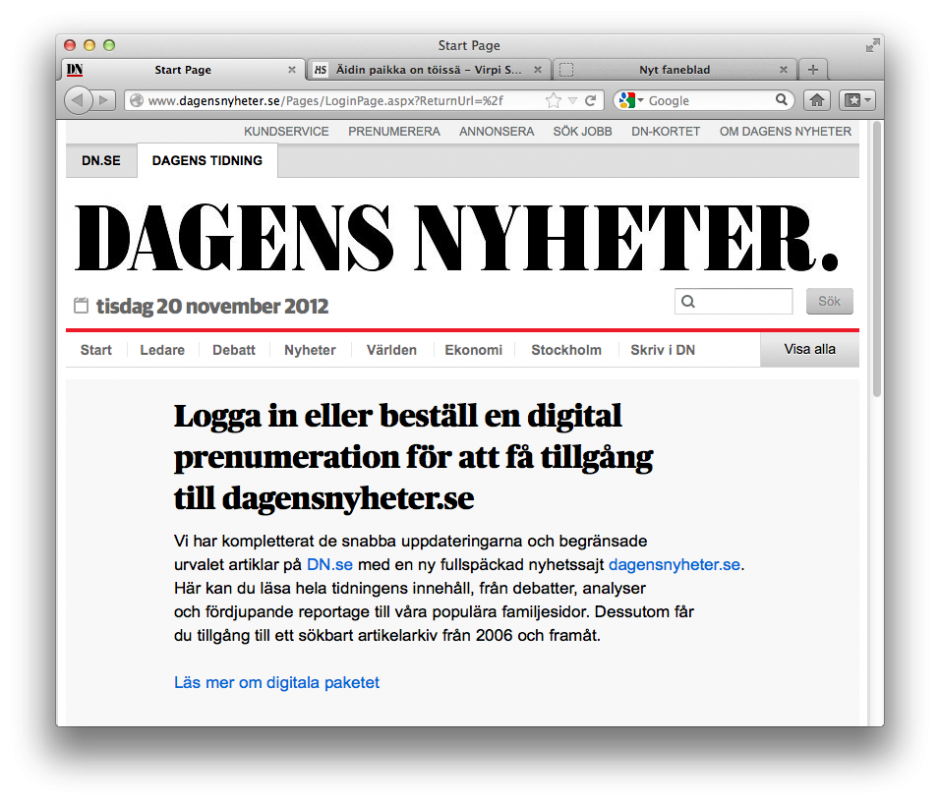 dagensnyheter.se – the printed paper, online.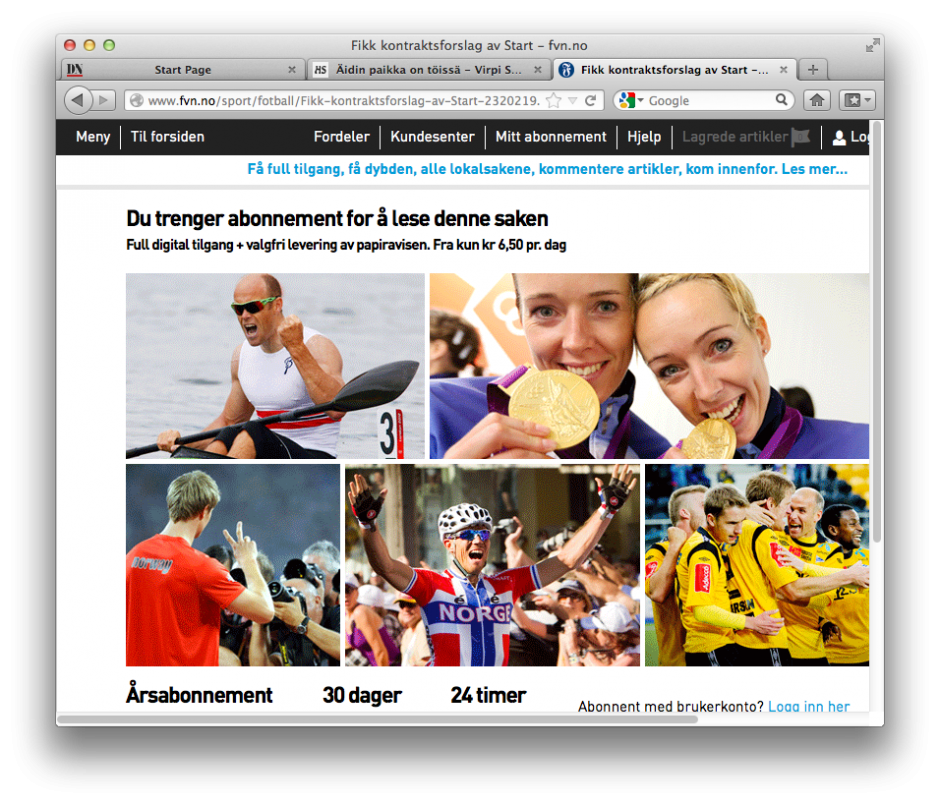 fvn.no – pay for news Everything, Everywhere, Always.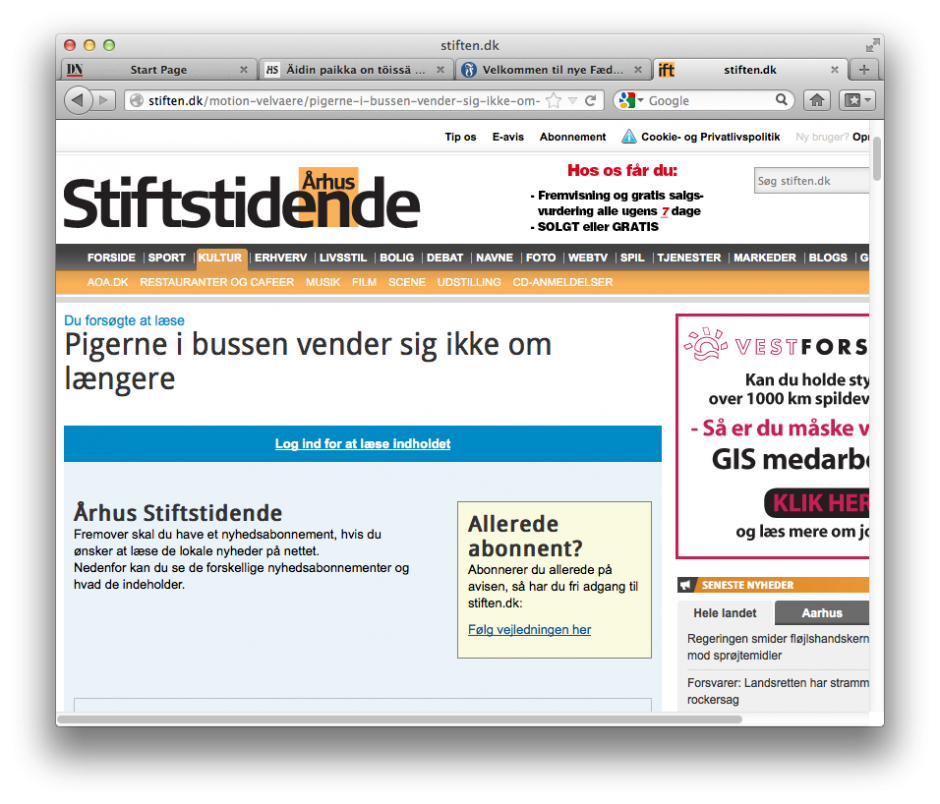 stiften.dk – local news behind iron curtains.