Our editors' column in SNDS Magazine 4, 2013.
"I would feel unarmed attacking a day of creative thinking if I hadn't read The New York Times early that morning." – George Lois, 2012*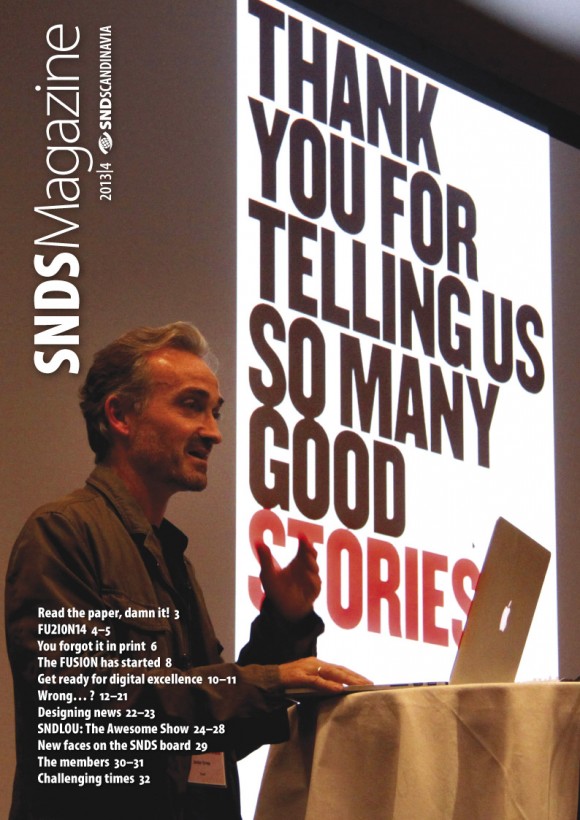 Advertising guru George Lois (born 1931, inventor of Big Idea advertising) may belong to a different time than the new breed of media workers, who grew up with twitter, blogs, and Facebook. But he sure has made his mark in the graphic design world, creating great art direction for Esquire Magazine, MTV, and Tommy Hilfiger to name a few.
In his small book, Damn Good Advice (for people with talent) he gives some of his experience back to the next generation of creatives – in the form of short, in-your-face advice on how to be creative. His book includes the statement above – followed by this comment:
"For you young generation of techies, reading in-depth journalism in a great newspaper beats the unedited, non-fact-checking bloggers every day of the week".
Perhaps his point is not so much related to the printed paper, but more to the kind of reading that the newspaper supplies you with. Lois describes this as the "visceral, informative, investigative, and analytical power of the world's great newspapers". Television or the internet can't even come close to this, says Lois.
Nevertheless, today's media still seem to be focusing on the quick news rather than slow reading.
Javier Errea has also made his mark – on the editorial design of newspapers and websites all over the world – and he also has opinions about the way news travels across platforms today. In the final keynote presentation at the SNDS WRONG conference, one of Javier's slides carried these few words:
"Twitter? Participation? Customization? Forget it!"
No, his message was, give me ugly newspapers. They are so much more fun. And they tell so many good stories – which, as you can see on the cover of this magazine, was his worthy salute in the very last slide of a great conference in Copenhagen.
George Lois sums up his advice for the tweeting generation in this way: "Twitter less, think more".

We'll meet again
Back to Copenhagen. In this issue, we bring you ten pages (p. 12–21) of photos from the Wrong conference days – in no way a complete view of speakers or events, but a glimpse of what you missed if you weren't there.
Many speakers gave great presen­tations, and we can only show a few.
Dagens Nyheter took home the big award as "Scandinavia's Best Designed Newspaper", and the pink theme was omnipresent, from the colour of Sami Valtere's shirt to the welcome drinks.
Next year's event will also be in Copenhagen, same place, almost same time: 9–10 October 2014, and the title will be FU2ION14. The programme will include several new initiatives – we present some of them on the next few pages (4–5).

We'll compete again
The other major event under the auspices of SNDS, the Best of Scandinavian News Design competition, will also change substantially this year. The digital part of the competition has been given a complete overhaul and now includes categories such as "Data-project" and "TV-experience". Read all about the competition on pages 8 and 10–11.
Deadline for entering in the competition is 27 January 2014 – so start finding those great designs now. More info will be available on the snds.org website soon.
…and more
We also have the pleasure of bringing you Mario García's review of a new book about news design; and Søren Nyeland, head of design at Danish Politiken brings us a report from the SND Louisville seminar and workshop.
Oh, and if you haven't noticed, SNDS now has a new President – Flemming Hvidtfeldt – and new board members. We present them on page 29.
Enjoy it all – in between Christmas preparations which, we assume, will be your primary concern in the next few days. Have a great holiday, and see you next year!
Lisbeth Tolstrup & Lars Pryds
Editors, SNDS Magazine
*Lois, George: Damn Good Advice (for people with talent!). How to Unleash Your Creative Potential. Phaidon, 2012.
Read the magazine online here:

This post is also available at snds.org