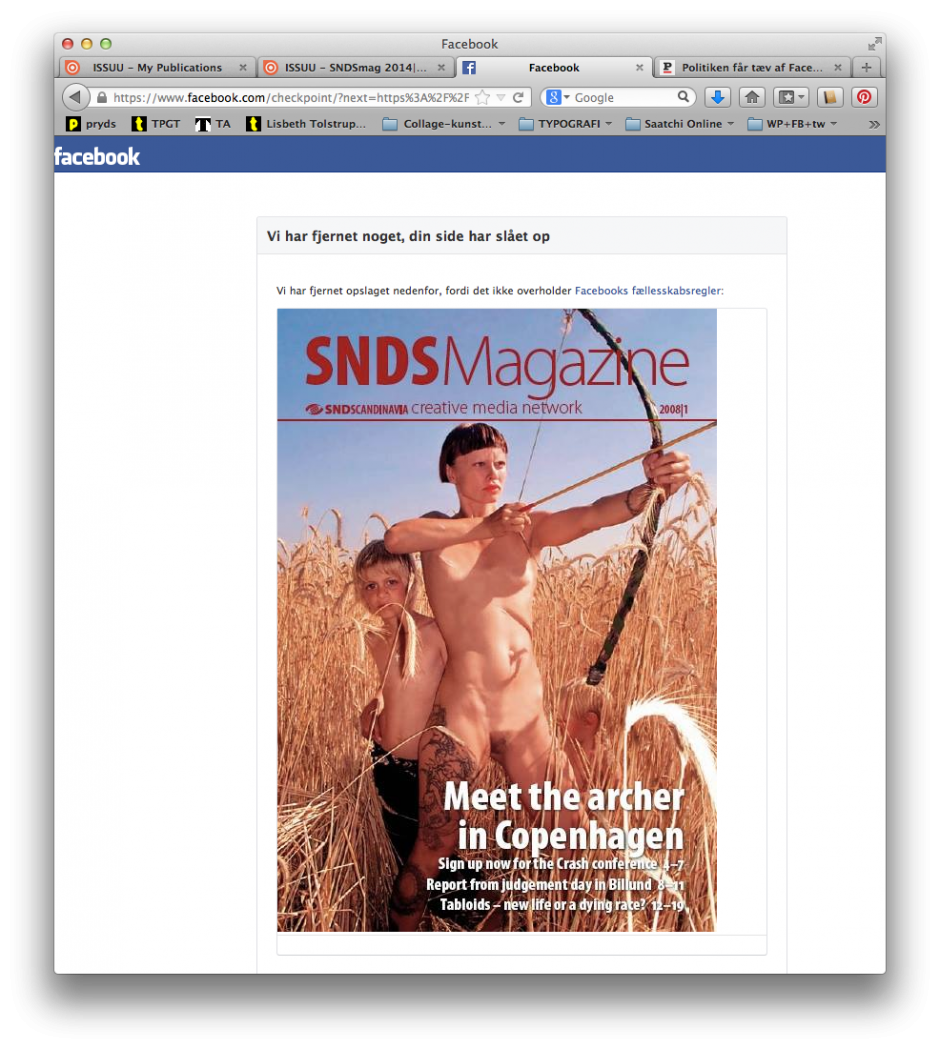 The Society for News Design Scandinavia's Facebook page has, among other great stuff, a photo album showing all the covers of the organisation's quarterly publication, SNDS Magazine. We are pretty proud of this long series of covers – witness of the variety of subjects covered on the inside pages. Print and digital news design, the conferences, the competitions, great photography, and art.
But not all great art is welcome on Facebook. The album shows every cover since 2006 exactly the way they were published – except Issue 1, 2008, which has been removed by Facebook. The cover photo shows a self-portrait of the Danish photographer Liv Carlé Mortensen – in the nude, we'll admit to that, but her breasts have been removed in Photoshop, and artificial scars have been added to her body. Nevertheless, this artwork by an internationally renowned artist was, apparently, too strong for Facebook. We have now uploaded a version with black bars covering her private parts – and hope this censored version of the cover will be allowed to stay online.
Facebook is not alone, however, in this misunderstood fear of body art. Issuu.com – the fabulous free e-magazine hosting service, whereto we upload all SNDS Magazines for the world to read – has also removed the complete issue from its service. We'll be uploading a censored version of the magazine here, too.
Almost at the very same time, Danish newspaper Politiken had a photo removed from Facebook – Rune Pedersen's portrait of comedian Sanne Søndergaard pulling her pants down just a little to show a glimpse of her pubic hairs, accompanying a link to a page on Politiken.dk selling the art of Politiken's photographers. This happened on the 8th of March – the international women's day – so one can't help but wonder if Facebook brought in extra help to review the pages on this particular day.