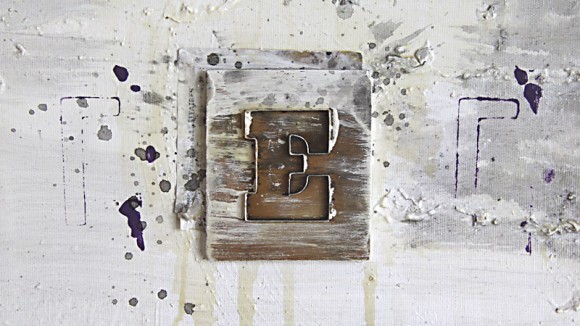 (Scroll down for English text)
Både Lisbeth og vore to døtre er yderst bevidste om min forkærlighed for bogstaver og for noget der er slidt – og meget gerne i kombination! "Det Svenske E" har fået titel efter et E (i øverste højre hjørne), som Eva Lone fandt, sammen med en hel masse andre bogstaver, på en ferie i Sverige – og tog med hjem til mig. Den slags betænksomhed er da rørende – og jeg får materialer, som jeg ikke selv kunne have fundet!
Som en slags tak for hjælpen har jeg malet et L på hver side af E'et – så har vi Eva Lones initialer. Længere nede på lærredet er påklæbet – med bagsiden synlig – en stak plakater, der under i en regnvejrsperiode var faldet ned på gaden et sted på Østerbro – det hvide papir har rillede mærker efter den el-kasse den har siddet på. Proportionerne er næsten de samme som billedets fulde format – og bliver dermed et billede i billedet.  –pryds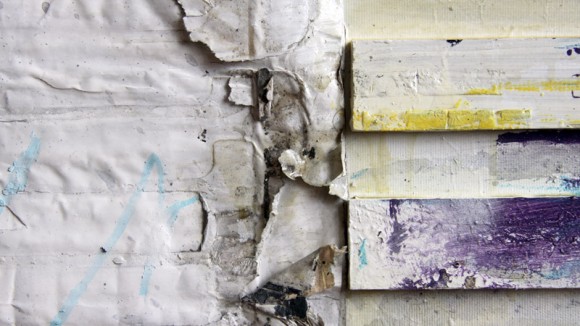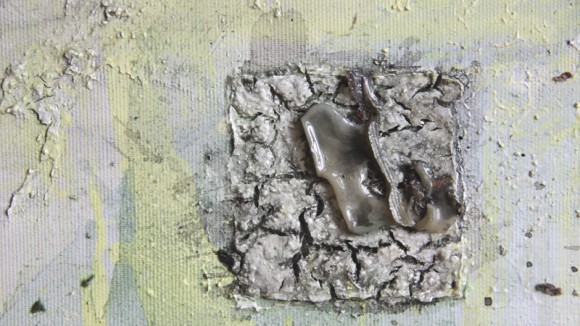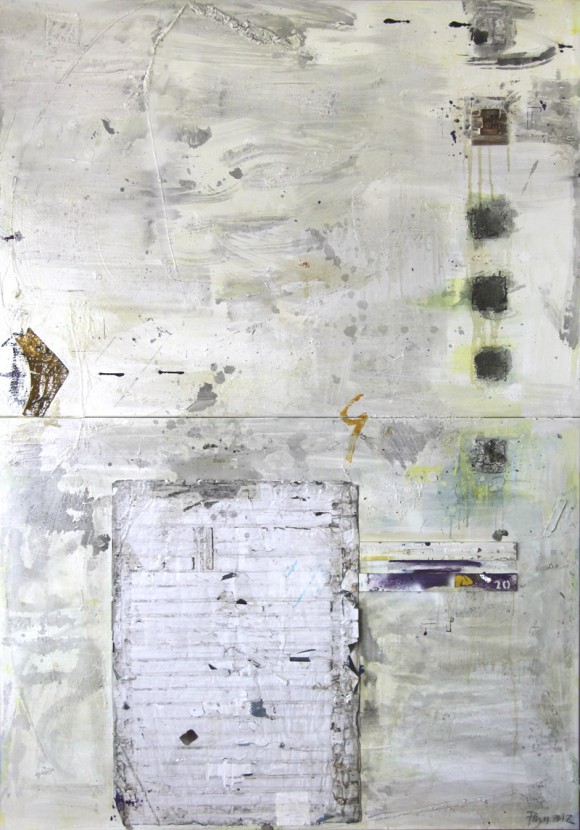 …
The Swedish E, 2012
Lisbeth and our two daughters are well aware of my weakness for lettershapes and for things that are worn and torn – preferably in combination! "The Swedish E" has its titel from the stencil E (top right hand corner) that Eva Lone found as one of many letters on a vacation in the Swedish woods and brought home to me. I really appreciate this kind of thoughtfulness – and I get collage materials that I would not have been able to find myself.
As a thanks for the help I painted an L on both sides of the E – the two letters that form Eva Lone's initials. The stack of old posters glued to the canvas near the bottom of the have their backside out – showing the stripes from the wall it sat on somewhere near our home and studio in Copenhagen, until rain washed it off. The proportions of the paper are almost identical to the whole canvas – and thus mirrors the fulle picture. –pryds