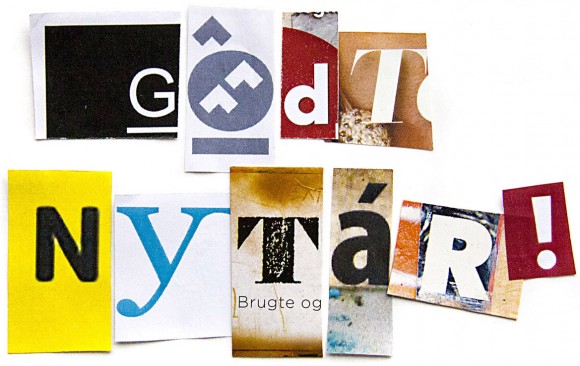 I årets sidste måned ser vi frem mod et nyt år, der tegner til at blive lige så begivenhedsrigt som 2014. Bogstaverne herover stammer fra et lille udpluk af opgaver, udstillinger og arrangementer, vi har sat vores præg på i året der gik. Tak til alle involverede for godt samarbejde og samvær i 2014.
Hermed, bogstav for bogstav:
G'et er fra Galleri Pagters logo – her udstillede jeg separat i januar måned. Det blev en fin udstilling med billeder udvalgt af galleriets indehaver Orla Pagter, der fortsat har et mindre udvalg i kommission. Læs mere om udstillingen på pryds.com/pagter2014 og besøg galleriet i Kolding eller på www.galleripagter.dk
Det blev også til separatudstillinger i bl.a. Jäger & Jansson Galleri i Lund, Sverige, samt deltagelse i flere gruppeudstillinger i årets løb, ikke mindst med Kunst2100, hvor jeg desuden er blevet valgt som formand.
O'et er fra logoet til NGO'en Bonsai, som jeg havde fornøjelsen af at udvikle, sammen med en hel serie afledte logoer. BONSAI står i denne sammenhæng for "Big Open Network for Sustainability Assessment Information" og er en organisation, der arbejder for opbygning af en "Open Source Database for product footprinting". Det var oplagt at tage udgangspunkt i direktør Bo Weidemas idé om det japanske bonsai-træ, der blev til et O i en kraftigt stiliseret udgave. Læs mere om Bonsai på www.bonsai.uno


D'et er fra invitationen til Lisbeth og min fælles udstilling med  titlen "Modspil" i Kunstbrænderiet i Vejle – det smukke gamle udstillingsstedmed sand på gulvet og en flot rå atmosfære. Sidst vi udstillede der var for 21 år siden – så det var et herligt gensyn.
T'et er fra forsiden af Lisbeths nye bog "Tekstile Smykker", som udkom i forbindelse med Strikkefestivalen på Fanø. Bogen har fået en forrygende modtagelse – har solgt rigtig godt til bibliotekerne og til private gennem boghandlerne, via TEX-antik eller direkte fra forlaget. Smugkig, hvis ikke du har gjort det allerede, i bogen på storslaaetstrik.dk/tekstile-smykker
Det sorte N på gul bund stammer fra invitation og plakat for udstillingen "New York Now!", hvor jeg deltog med to mindre collager. Arrangeret af London-baserede galleri Factory-Art Gallery, vist i et råt område i Harlem, New York. Se billeder fra udstillingen her: factory-art.com/new-york-now/images/images.php
Y'et er et Georgia-y fra logoet for "Quarterly Analytics", et magasin specialiseret i it-outsourcing. Ikke noget, jeg vil påstå, jeg ved meget om – men efterhånden mere og mere, efter at have produceret de seneste to numre. QA driver både rådgivnings- og kursusvirksomhed med det kvartårlige trykte magasin som et håndgribeligt omdrejningspunkt.
Det karakteristiske T i skriften Bullion er fra logoet for TEX-antik, Lisbeths tekstile håndarbejdsantikvariat. Også en udpræget niche-virksomhed, der er vokset og vokset det seneste år, hvor vi også har designet ny hjemmeside, været på messer i både Silkeborg, Viborg, og Glimåkra i det sydlige Sverige. Første gang TEX-antik kan opleves i 2015 er på AOH-messen i Rødovre – indtil da er vi naturligvis 'live' døgnet rundt på tex-antik.dk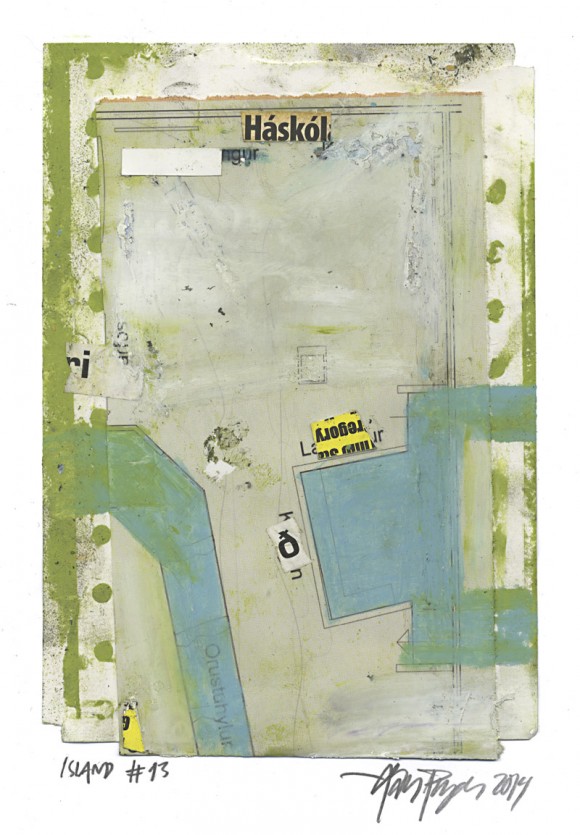 Å'et er jo slet ikke et Å, jeg ved det godt, men derimod et Á fra en af de flere end 50 collager, jeg fik ned på papir under Lisbeths og mit internship-ophold på Textílsetur Íslands i den skønne lille by Blönduós på Islands nordkyst. Opholdet gav os begge både arbejdsro og nye varige venskaber – og et glimt af den storslåede natur, der er også smitter af på vores arbejde. Lisbeths tekstiler har været udstillet efterfølgende både i Vejle, Kolding og Rundetårn, mens mine collager er solgt og ophængt i bl.a. Australien og Hvidovre.
R'et: For femte år i træk var det en collage med malede, tegnede og trykte bogstaver fra det Pryds'ske univers, der var på invitationen til Kvindestemmer – en årlig musik-, kunst- og forfattermatiné arrangeret af Folkevirke m.fl. Se alle fem varianter, fra 2010 til 2014, på pryds.com/design. I 2015 finder Kvindestemmer sted i Jazzhouse lørdag den 11. april.
Endelig – udråbstegnet er fra HK Kommunalbladet, som jeg i efteråret har hjulpet med at ombryde og producere et par numre af. Et nyt samarbejde med gode tidligere kolleger, der nu således er blevet nuværende kolleger igen – herligt at opleve.
Godt nytår og på gensyn i 2015.